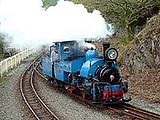 Three vintage steam locomotives will simultaneously chug out of Siliguri railway station on Wednesday to commemorate the anniversary of the Darjeeling Himalayan Railway (DHR) services. The country's first "toy train" made its maiden run in the hills on August 23, 1880.
Siliguri is the only station in the world to have all three railway gauges — broad, metre and narrow, Northeastern Frontier Railway (NFR) authorities say. DHR is the second railway system in the world to be accorded World Heritage site status by UNESCO, in December 1999.
The MAWD locomotive that will haul carriages on the metre gauge, built in 1944 in the U.S, has been brought from Guwahati; the engines are still being used for chartered trips in the NFR's Lumding division in Assam.
Read report