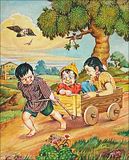 Chandamama first appeared in Telugu and Tamil languages, with a print order of 6,000 copies. In 1948, it appeared in Kannada, and in Hindi in 1949. In 1978, Chandamama was already being published in 14 languages when a new Sinhala edition was added. It started appearing Sanskrit in 1984
"If you look at the first edition that came out in July 1947, you will see that their intention was to familiarise the post-Independence generation with Indian tradition, folklore, mythology and history in the form of stories," remembers B. Viswanatha Reddi, Nagi Reddi's son and the current editor and publisher of Chandamama. He was just three years old when the first copy came out.
The most memorable response he received was from a reader who called the Chandamama office to say that he was stopping the subscription of Chandamama. "He called to apologise. Then, I asked him, are you unhappy with Chandamama? He said, I am 85 years old and my eyesight is failing, and my doctors have advised me not to read."
Read report