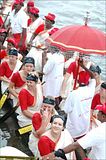 This year, the boat race had some unique participants: a 10-member foreign women's team from Dubai.
It was the first time that a team of foreign women were taking part in the boat race. And they won the women's boat race in this event.
"I am thrilled. I thank the people of Kerala for giving us an opportunity to race in this great backwaters," said an excited Julie Amer, a British national. Amer, founder of adventure club Mountain High, was the leader of the Dubai team.
Read report