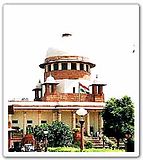 Internet revolution has finally reached the Supreme Court. Starting next month, litigants won't have to make endless trips to the court to file a petition - they can do it online. A tie up has already been made with ICICI Bank for collection of court fee.
The petitions filed must conform to Supreme Court rules and e-filing will be optional, not mandatory.
The defects in the petitions can also be removed online. The Registry will inform the litigant/lawyer about the defects and they can correct them online.
Read report