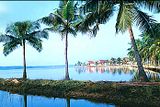 Indian archaeologists suggest the ancient port city of Muziris, where Romans traded about 3,000 years ago, may have existed in Pattanam, a small seaside village in south India...
Muziris was mentioned in several ancient travelogues and scholarly texts as a major centre of trade between India and Rome, especially in pepper and other spices around the second century BC, to as late as the 6th century AD.
Christianity may have also been introduced through Muziris, but it mysteriously dropped off the map — due to war, plague, or disaster.
Selvakumar, an archeologist says the ancient bricks, which the villagers used to build their homes, bore a close resemblance to those used 2,500 years ago.
Read report