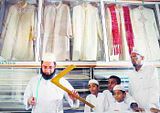 The Mehedi brothers of Aligarh make unique sherwanis that are worn by Presidents and Prime Ministers.
No, the Mehedis do not work out of a designer hub in a metro. Their humble little shop is located in Aligarh, a small town in western Uttar Pradesh.
Mehedi brothers, the tailor duo to whom most politicians virtually line up to get their sherwanis stitched. Manmohan Singh, V.P. Singh, Arjun Singh, Babu Parmanand, Syed Sibte Razi, E. Ahmed and Azam Khan... the list is quite big.
The brothers are also proud of the family's association with the first citizens of the country. "From Zakir Hussain to Shankar Dayal Sharma, we have stitched sherwanis for all the Presidents of India"
Read report