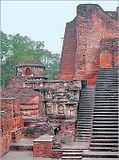 Space scientists have begun the fieldwork to conduct satellite imagery to explore the unexplored part of the more than 2,500-year-old Nalanda University in Bihar, one of the world's oldest universities.
Moroever, the Bihar government's desire to revive the old glory of Nalanda, the ancient seat of learning, is likely to be fulfilled now.
Buddhist countries like Japan, Thailand, Singapore and Vietnam have come together to offer a proposal to set up an international university at Nalanda in Bihar.
Read report