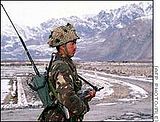 The bare stretch of rugged terrain is what makes Siachen the world's highest battlefield and also one of the most inhospitable ones.
However, soldiers in Siachen are not only guarding the icy frontiers, but are also on a mission to add a patch of green to the landscape.
Before proceeding to Siachen glacier to complete their term, each soldier will plant five saplings.
One lakh two thousand saplings, signifying 102 Siachen brigade, will be planted under the project Green and Clean Siachen.
In an area that remains under snow for over six months, this drive will go long way, especially in increasing the oxygen levels at such a height. The height of the Siachen base camp is over 12,300 feet.
Read report