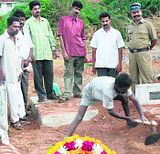 Thozhar, a charitable trust in Coimbatore, has taken upon itself the task of giving a decent burial for unclaimed bodies.
Thozhar, a charitable trust formed by Shantakumar, flower vendors Sampath Kumar, Ibrahim and Jeevanandham and lathe worker Annadurai, is trying to give dignity in death. Their mission — to foster humaneness.
The members of Thozhar have chipped in with funds to bury everyone from pedestrians killed by speeding vehicles unknown to their families, to a son whose mother was too poor to even afford a tumbler of milk and a joss stick to perform the last rites.
The group now maintains records of every burial, with the mortuary discharge certificate and the signature of a police official saying the body was buried under his supervision.
Read report