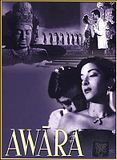 The 1951 Raj Kapoor starrer "Awaara" has been seen and enjoyed by so many across the globe that it may well be the "most successful film in the history of cinema at large", according to a leading professor of film studies.
Dina Iordanova, professor at the University of St Andrews, and other experts cite several texts and anecdotal evidence to state in a special issue of the journal "South Asian Popular Cinema" that "Awaara" may be a candidate for the title of the "most popular film of all times".
The journal's latest issue is devoted to mapping the career of Indian films in various national contexts outside South Asia. The issue includes several papers exploring the popularity of Indian films in places such as Greece, Bulgaria, Africa and Turkey.
Read report