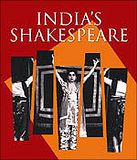 India's Shakespeare: Translation, Interpretation and Performance, a collection of essays -- published by Pearson Longman and priced at Rs 399 -- edited by Poonam Trivedi and Dennis Bartholomeusz takes a close look at the interaction between Shakespeare and India that now spans more than 200 years, making him the most published and performed Western author in India.
Some snippets on Shakespeare and India:
The first performance of The Taming of the Shrew in Gujarati was held in Surat, in 1852.
In 1874, Venugopala Charyar translated The Merchant of Venice into Tamil under the title Venice Viapari.
A close associate of Lokamanya Tilak, Gopal Ganesh Agarkar translated Hamlet into Marathi as Vikaravilasita in 1883.
Jahangir Pestonjee Khambatta's Khudadad, an adaptation of Pericles, was performed by the Express Victoria Theatrical Company in 1898.
Director Sohrab Modi recreated Hamlet in his 1935 film, Khoon ka Khoon, with some scenes even utilising a portrait of Shakespeare as a prop.
Read report