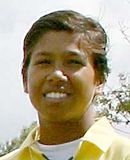 Indian cricket, famed for its spin magicians, can now boast of having the fastest bowler in the world, albeit in the women's version of the game.
Jhulan Goswami, who bowled India to its maiden Test series victory in England recently, can work up pace up to a maximum 120 km per hour.
The 5-foot-11-inch tall girl, who hails from a family of modest means based in Chakdah (80 kms from Kolkata), dreams of the day when she will meet McGrath.
Simple and straightforward in her words and thoughts, Goswami's cricketing philosophy is also uncluttered.
Read report