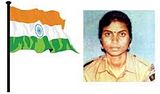 Kamlesh Kumari, aged 32, left behind a three-year-old daughter with her tailor husband Avdesh, to stand guard at Parliament on December 13, 2001 and she fought till the end.
Constable Kamlesh, of 88 Mahila Battalion of Central Reserve Police Force (CRPF) was posted near the X-ray machine at Gate No 1 of the Parliament annexe.
Kamlesh was the first security personnel to walk up to the terrorists' car. Alert and reflexes working double time, Kamlesh, realising something was amiss, ran towards the gate to shut it. The terrorists, their cover blown, opened fire. Eleven bullets from the blazing guns caught the Mahila CRPF constable in her stomach. She fell.
Kamlesh's bravery prevented a human bomb among the terrorists from executing his dastardly deed. For, the closing of Gate No 1 and the alert that Kamlesh raised gave enough time for other security personnel to take position and down the human bomb in a hail of bullets.
Read report