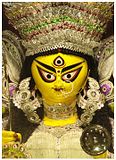 The Shahi Imam of the Tipu Sultan Mosque in Kolkata has called for the participation of Muslim youth in the Durga Puja festivities.
They have also been called upon to organise camps near the big Puja pandals to guide and help thousands of visitors. Particularly on the Imam's mind are stalls for drinking water and a missing person booth.
If necessary the volunteers could also help the traffic department of the Kolkata Police. It is learnt that the authorities of the Kolkata-based Nakhoda mosque are also considering a similar appeal.
Read report