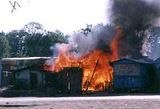 Image: Riots in Malegaon
Malegaon has become a byword for poverty and communal riots. But the town had its days of glory too.
In the Third Anglo Maratha war in 1818 a handful of Muslim soldiers of the Marathas defended the small fort of Malegaon from the invading British.
When the English arrived in May 1818, the Marathas had already lost the war. The siege of Malegaon was more in the nature of mopping up operations. A garrison of less than 400 Muslim soldiers of the Marathas (referred to as Arabs in the British records) defended the fort, refused to surrender and fought on bravely.
In the month-long battle, the British lost 5 officers and 220 soldiers. The Maratha toll: 35 dead and 60 wounded. The British used 36 guns, fired 8,000 shells and expended 35,000 pounds of gunpowder, huge firepower for those times.
Read report