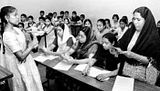 Misbah Fathima has a master's degree in Applied Mathematics but wants to teach Sanskrit.
Nuzhath Fathima, her sister, who is doing her master's degree in Electronic Science, is also studying Sanskrit. She is proficient in Tamil and English and took up Sanskrit out of interest.
At the Murthuzaviya Educational and Cultural Foundation on Big Street in Triplicane (Chennai) where the sisters learn Sanskrit, there are as many Muslim youngsters as Hindu youth enrolling to learn the ancient language.
Read report