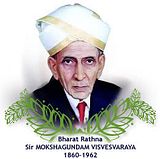 Dr Sir M Visvesvaraya , the Dewan of the state of Mysore was a brilliant Engineer, great statesman and a man of principle who knew the value of time.
MV, as he is fondly known never wanted anything for himself or his family members. In fact, throughout his life, Visvesvaraya lived in a rented house. He never had a house of his own!
He never used government property for his personal work. As a Dewan, he got a car from the government for his use. He used the government car for official work and his own car for private work.
MV always valued the quality of the work and never bothered with money. When he was the Dewan of Mysore, the Maharaja wanted to increase his salary but Visvesvaraya declined the offer.
Read report