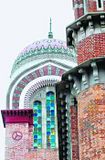 Ever since the 1980's there has been a quiet campaign to restore the Senate House of Madras University to its former glory. This magnificent bit of architecture in the Indo-Saracenic style was built in 1869 by Robert Fellowes Chisholm, a young architect.
Later, the senate house fell into repair and one or two earlier efforts to renovate the building never took off and it was only in 2003 that a dedicated effort was launched to restore the first building of the University of Madras.
Senate House consists essentially of a cellar hall, a ground floor hall with a high ceiling called the Great Hall, and northern and southern wings with the main entry porches. In addition, the building is adorned with minarets and has porches on the eastern and western sides.
The renovation of Senate House provided a lot of insights into building techniques that had been forgotten with the passage of time. Changes in construction methods and materials had resulted in the loss of traditional artisans and skills.
Read report