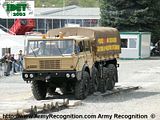 Indian entrepreneurs are making their business savvy felt across the world.
RK Rishi is one such businessman stirring up things in eastern Europe. A graduate of Indian Institute of Technology, Rishi has now acquired a 12% stake in Czech Tatra and 50% equity in Tatra Slovakia — the makers of heavy trucks used in army and mining — for an unknown sum.
After the split of Czech Republic and Slovakia in 1994, Tatra went into financial crisis and was split in two firms. The state was looking for investors to revive it.
Rishi saw an opportunity and struck a deal to acquire a 20% stake in the firm along with US-based private equity SDC.
Read report