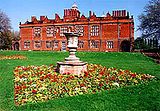 All roads for Britain's new class of super-rich Indians lead to Northwood, a quiet west London suburb that is being transformed into the country's first "Millionaires' Row" for a single ethnic minority — Indians.
Homes worth more than £1 million (about Rs 8.5 crore) on Astons Road are being snapped up and then demolished to make way for mansions worth up to five million pounds, complete with indoor pools, sweeping marble staircases and extravagant landscaped gardens.
According to locals, nine out of 10 new buyers on Astons Road are Indians, eager to take advantage of the area's respected private schools and some of the best golf courses within the motorway.
Read report