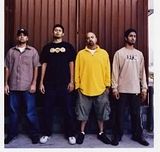 That's Gujarati rap for you. And, its rocking Uncle Sam's land, with a band of American desis, two of them Gujaratis, creating waves.
Their band, Karmacy, has not only stirred up music circles with their debut album, 'The Movement,"and breakthrough track 'Blood Brothers', it made history by being one of the first bands of Indian origin to perform at HOT 97 FM — the premier radio station in US for Hip-Hop — concert in New York in June this year.
Our songs speak of the saga of trials and tribulations and the Indian success in this land,"says Nimesh, who's parents hail from Changa and Bhakrol villages in Anand.
Read report