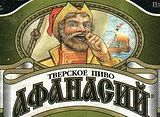 Image: Afanasy Nikitin's image on a popular beer brand in Russia
A 14-member expedition will head off from the northern Russian town of Tver to southern India, tracing the journey of 15th century Russian trader Afanasy Nikitin, said to be one of the earliest explorers to reach India.
The team, of the Indian Adventurers and Explorers Society, comprising historians, trade analysts, explorers and a film crew will be travelling in four sports utility vehicles (SUVs) along the route Nikitin followed through Russia, Georgia, Armenia, Iran and on to Mumbai in India.
Nikitin travelled to India and back between 1469 and 1475 with a detour to Africa on his return journey. He died in Smolensk in 1475 before he could make it back to Tver, his hometown, about 400 km northwest of Moscow.
Read report