Kalpataru Kalavihar: Dance school with a difference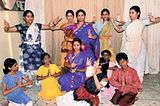 Kalpataru Kalavihar is a dance school conceptualised by Padmaja Suresh. It is one of those few institutions which apart from teaching children who are talented and privileged enough to afford such classes, also trains Government school children for a negligible fee.
Through her endeavour, she not only gives the children a hobby for their spare time but also gives them an opportunity to feel appreciated.
Read report