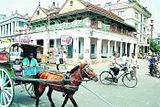 Mysore had a timeless quality then, epitomised by the many palaces and gracious public buildings and as many as seven clock towers, all in good working condition, in the heart of the city.
The enlightened rulers of this former princely State had set these up so that simple village folk, who did not possess wristwatches, could tell the time. Three of these public clocks, symbols of stability, continue to lend a quiet distinction to the city's skyline.
In terms of architecture, still predominantly what history made it — a Maharaja's capital; in terms of social and cultural values, a traditional town where everyone walks tall.
Read report