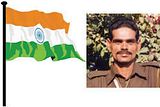 For Om Prakash, duty always came first. On the day he met martyrdom on December 13, 2001, the day when the Indian parliament was attacked by terrorists, Om Prakash refused to be at the bedside of his son, who was being operated upon in Lok Nayak Jai Prakash hospital that day. Work always came first, he used to tell his family members.
Head Constable Om Prakash Dabas of the 6th battalion of the Delhi Armed Police (DAP) was in Vice President Krishan Kant's convoy held one of the terrorists by his collar (girebaan), when they hit the Vice President's car.
Om Prakash was shot six times in his left leg and stomach. He fell down and slept forever.
Read report