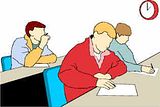 An Indian schoolgirl in Malaysia has become one of the highest scorers in English Literature worldwide, from among students who sat for their International General Certificate of Secondary Education (IGCSE) examinations.
Pooja Bharat, 16, a class 10 student at an International School which follows the British Curriculum, achieved 10 "A stars" in her IGSCE exams.
"A star" denotes the highest marks a child can achieve. Pooja is the only girl to have scored the highest marks in English Literature worldwide.
Read report