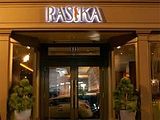 Indian restaurant Rasika has been chosen as one of the top 20 eateries in the US for the year 2006 in a listing by leading men's magazine Esquire.
The new Indian restaurant in Washington DC made it to the list that spans cities like Las Vegas, Los Angeles, New York and San Francisco within a year of starting business by staying with the traditional but also putting new and varied tastes.
The focus is also on its Chef from Mumbai, Vikram Sunderam, who came about a year ago packed with his culinary skills.
Read report