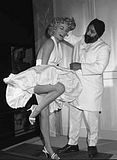 Spoony Singh, who once said he founded the world famous Hollywood Wax Museum to give tourists who couldn't find any real celebrities in Hollywood the next best thing, has passed away.
Singh was born in Punjab in 1922, and moved to Canada with his family at age three. He operated saw mills and an amusement park in Victoria, British Columbia, when he paid his fateful 1964 visit to Hollywood.
The nearly 200 figures of Hollywood stars have changed over the years as their fame has ebbed and flowed. Marilyn Monroe, however, has remained a perennial favorite.
Singh helped develop the Hollywood Guinness World Records Museum, which opened in 1991, and another Hollywood Wax Museum, which opened in Branson, Mo., in 1996.
Read report