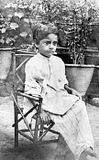 Image: The earliest known photograph of the writer, aged about 6, taken by his uncle T.N. Seshachalam circa 1912.
Malgudi will live on, long after the October 10 centenary of the birth of its creator.
Narayan had a special ability to make the rhythms, intricacies and humanism of South Indian life accessible to people all over India and indeed to people of other cultures round the world.
Central to this achievement was Malgudi, the fictional South Indian town, which he peopled with ordinary men and women made memorable by his art. The stuff of his fiction is the precise registration of the particular and the local, mediated by the art of omission — what V. S. Naipaul memorably called the life of "small men, small schemes, big talk, limited means."

Read report