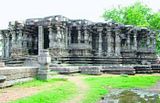 The reconstruction of the `kalyana mantapam' at the Rudreswara Swamy Temple in Warangal is set to start soon. The temple is a national monument.
The showpiece mantapam, a platform for performing marriages, had become decrepit with its foundation sinking. The temple is popularly known as the `Thousand Pillar' Temple.
The temple, an example of Kakatiya architecture, was built in 1163 A.D. by King Rudra Deva. Erected on a star-shaped adishtana (a platform for devotees to circumambulate the mantapam), the temple is dedicated to Shiva, Vishnu and Surya. Nandi Mantapam and Kalyana Mantapam are also part of the complex, which stands on an extent of 2.41 acres.
Read report