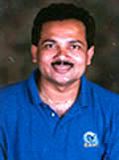 An Indian researcher at the Centre for Cellular and Molecular Biology (CCMB) in Hyderabad believes that he and members of his former group "narrowly missed" this year's Nobel Prize for medicine.
CCMB scientist Utpal Bhadra said his group - which included his wife Monika and James Birchler at the University of Missouri in the US - was one of the first to work on gene silencing but narrowly missed the Nobel race.
While claiming it was a narrow miss, Bhadra said he was delighted that this year's Nobel gave recognition to the field of research he and his wife - both Wellcome Trust Fellows - are working on.
Read report