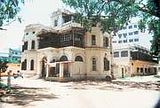 Which was Bangalore's first boarding and lodging hotel? Which hotel first served idlis and rava upma in the City? In which non-cantonment hotel were spoons first introduced?
The Modern Hindu Hotel run by K T Appanah was set up in 1898 at Chikpet after the big attack of plague had wiped out over 3,000 residents and affected many commercial establishments in the City. Historian Vemagal Somashekhar, who has intensely studied the growth of the hotel industry in Bangalore over the last 15 years, has come out with a 60-page book.
The Modern Hindu Hotel was patronised by eminent personalities like C Rajagopalachari, A Rangaswamiyengar (then editor of The Hindu), Wellington D Jones from the University of Chicago and John Fuller, Hotel expert from London.
Read report