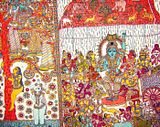 Kalamkari has got a new lease of life by adapting to modern market conditions while remaining true to the essence of tradition.
Vegetable dyeing and printing is an art form that goes back to ancient times as the discovery of dyed cloth at Harappa reveals. But it owed its efflorescence in the South to the patronage of the Vijayanagar emperors in the 15th century.
The beautifully painted scenes from the epics and puranas were used as backdrop for deities in the temples and to narrate stories. The Persian influence brought in the glorious design vocabulary of the Tree of Life, and motifs of pomegranates and blooms in the 17th century.
The Kalamkari of Machilipatanam combines block printing with painting by hand. "Chintz" became hugely popular as dress material and furnishings in England , France and Holland .
Read report