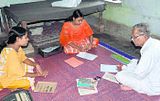 Lalgola in West Bengal is an open-air prison where the convicts are given a chance to emerge from the shadows of the past.
Perhaps, it is this apparent invisibility of the guardians of law and order that ultimately acts as a guarantee of order.
The prison, spread over 100 acres, is set amidst the sprawling ruins of what once used to be the palatial residence of Biren Roy, erstwhile king of Lalgola. The property had been handed over on the condition that the colonial architecture would not be dismantled.
Read report