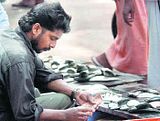 Sitting on a rock near his home in Aayancherry, 60 km from Kozhikode, Pavithran Theekkuni's shirt and hair and hands reek of fish. He is just back from the village market where he makes a living by selling fish.
Eight books of poetry and several poetry awards (including a State Sahitya Akademi Award) later, selling fish is his only reliable source of income. Earlier, he used to carry the fish basket on his head and sell door-to-door; now, from a wooden board raised on the road's edge.
Leading literary critics rank him high among the young poets. His poems are referred to as "poems born out of fire" and "poems smelling of scorched lives". Some critics have accused him of "having brought in the stench of fish to Malayalam poetry".
Pavithran says he has no intention to quit hawking fish in the near future.
Read report