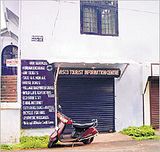 Portugese explorer Vasco da Gama's 16th century house will be transformed to its original glory, albeit with a few modern touches.
Delhi-based Aman Nath and Fransic Wacziarg, are involved in restoring the house, next to St Francis Church in Kochi, after they bought the property from the British tea company J Thomas, two years ago.
Le Colonial, located at Kochi, has been the official residence of the Portuguese governor for 150 years.
Read report