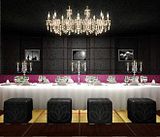 A newly-opened Indian restaurant in London has won the prestigious Food Oscar for having the best wine list in the British capital.
Tamarai restaurant at Covent Garden, operated by Old World Hospitality that runs Habitat World in New Delhi as also the Chor Bizarre chain of restaurants, won the award by The Independent newspaper.
Its list of 150 wines has been compiled by Tim Atkin MW, one of Britain's leading wine writers and internationally recognised expert on the subject.
Read report