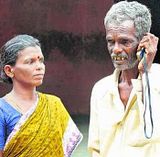 Image: Santhi's parents in rural Tamil Nadu
S. Santhi's silver medal-winning performance in the 800 metres at the Doha Asian Games triggered celebrations in Kathakkurichi, a non-descript village about 15 km off Pudukottai in Tamil Nadu.
For S. Santhi, the daughter of brick kiln workers in a Tamil Nadu village who waged a daily struggle for survival, it has been a steady climb towards the 800 m sprint silver at the Doha Asian Games.
Santhi's parents, M. Soundarrajan and S. Manimekelai, in Kathakkurichi village, about 500 km from here, brought up their five children on gruel (kanji). They could not even watch her Doha run because they don't have a television set.
Read report