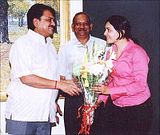 Sheetal Mahajan doesn't just break world records — she breaks them at first try, virtually untrained.
On December 15, the 24-year-old daughter of a Tata Motors factory worker in Pune became the world's first woman to do a free-fall para-jump over the South Pole.
All she needed for the 12,000-foot plunge from an aeroplane, in minus 38 degrees, was three to four days' training with the Navy.
Read report