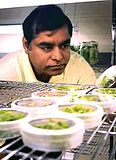 Henry Daniell, an Indian American scientist has made a breakthrough in research that will help make certain vaccines much cheaper and ideal for people in poor countries.
Henry Daniell of the University of Central Florida's Burnett College of Biomedical Sciences has found a way to genetically engineer plants to make large amounts of certain vaccines.
Daniell said the main motivation behind the research was the impact of diseases he saw on poor people in India.
Born and educated in India, he moved to the US as a post-doctoral fellow at the University of Illinois, Urbana-Champaign, in 1980. Since then he has served on the faculty of Washington State University, University of Idaho, Auburn University and at the University of Central Florida where he heads the laboratory named Daniell Lab.
Read report