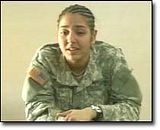 Doff your hats for Neha Hotchandani, the first Indian woman to join Uncle Sam's Army. And to think that she is only 20!
She is currently serving as a Company Leader at the 82nd Chemical Battalion in Missouri. About 250 people work under her. Now that is something Dr Hiralal Hotchandani, her father, could have 'ordered'.
She writes poetry, is an accomplished western dancer, and is crazy about jazz and is a die-hard Hrithik fan.
Read report