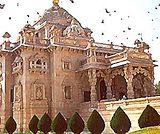 Image: Image of a temple in Ahmedabad. (nothing to do with the temple in the story)
A qazi reciting the Koran and some 50 people offering salaam at Ramji Mandir of Dakor in Ahmedabad. Unlikely though it may seem, the event took place when the temple mahant gave away his adopted Muslim daughter in wedding recently.
The Mahant had a son named Deep, but we wanted a laxmi in the house. So, he adopted Niyaazbanu, the daughter of an old friend, Bismillah Khan. And it was her wedding done according to Muslim rituals in a Hindu temple which attracted attention.
Read report