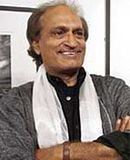 Raghu Rai put India on the world map for creative photography. His passion for photography goes beyond mere technique. It is the attempt to catch what lies beyond the visible, in the area of the inexpressible, that defines most of his collections.
"If we operate from the heart we can be different individuals and it has taken me so long to unlearn this. The problem is that human society is dangerous. It makes you into a mediocre, standardised guy. A tremendous openness has to be developed." Raghu Rai.
Read report
Rai talks of the crazy freedom that inspires his creativity, "You have to understand my innate freedom and this is what impels me to do what I do. I take my pictures from the road-side and the streets, it is really capturing the flow of life."
Read report