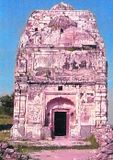 STRETCHING from the Jhelum in the east to the Indus in the west, and running across northern Punjab in Pakistan are the Salt Range Mountains.
Located some 120 km from Islamabad and 30 km from Chakwal off the Islamabad-Lahore motorway, Ketas, which is spread over 25 acres, is the most significant of a string of ancient Hindu temples whose ruins dot the Salt Range. The complex includes several temples and a tank fed by an artesian well.
A complex of Hindu temples called Ketas (or Katas, also Katas Raj), the earliest dating back to 6th century A.D, is now poised to take its place as yet another important landmark among these mountains of rock-salt deposits.
The government of Pakistan is pouring in millions of rupees into the conservation, restoration and renovation of Ketas and, in the process, aims to attract "a million pilgrims" from India every year.
Read report