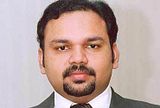 Santhosh George K; Entrepreneur and traveller, he's all set to be India's first space tourist in 2008-09.
"Space journey never existed even in my wildest dreams. My dreams are realisable.
The thrill is undeniable. Not so much for a personal, first-hand experience as much as sharing it with millions of people back on earth. "
"Isn't it worthwhile to spend Rs 1 crore for a once-in-many-lifetimes trip than buy 10 cents of land in Kochi? "
Read report