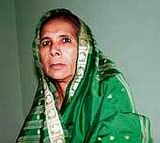 She lives off a small scrap shop in Howrah's Shibpur with her family. Often, they go without even two square meals a day. The only other income she has is the Rs 400 she gets as pension every month.
But she has blue blood running in her veins, no mixes anywhere. Her name is Sultana Begum and she is the great granddaughter-in-law of the last Mughal emperor, Bahadur Shah Zafar.
The Mahavir Mandir Trust offered the widow of Mirza Mohammad Bedar Bakht — a great grandson of Bahadur Shah — a job for one of her family members and funds to finance her grandson's studies.
Read report