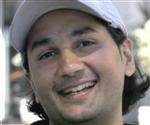 Bhavik Gandhi began his attempt at becoming the first Indian and first Asian to row solo across the Atlantic Ocean on 28th February, 2007.
Bhavik set off from the coast of Spain and is expected to reach his destination Antigua, 3000 nautical miles away, in about 90 days.
Bhavik in his attempt to row across the Atlantic unaided is at the mercy of the weather and has to endure extreme conditions such as gale force winds, storms and regular 4-storey high waves in the open ocean, not to mention the constant fear of sharks and whales.
Read more on Bhavik Gandhi's journey