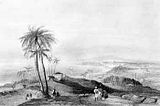 The mutiny of 1683 in Bombay is special as it was the first instance of a major revolt from within against the East India Company.
In a certain file of the Secret Committee of the East India Company, lay documented the events of a mutiny led by none other than the Commander-in-Chief of the British garrison, Captain Richard Keigwin, against the Company in Bombay in 1683.
History has it that Keigwin, appalled at the misconduct and the tyranny of the Company towards its own servants, threw in his lot with the rest of his regiment in seizing the administrative controls of the island from the hands of the Company for well up to a year.
Read report