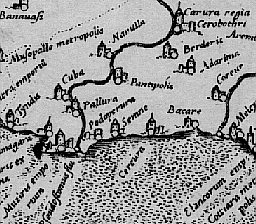 What began as exploratory studies in Kerala, has thrown up enough artefacts and structures of two millennia old Indo-Roman trade era to delight archaeologists, who are looking for the lost port of Muziris.
Habitation of megalithic people on the Malabar coast of Kerala has come to light for the first time during excavations carried out at Pattanam in Ernakulam district.
Archaeological teams in Pattanam village, near the port city of Kochi have been working on a site, which has yielded pottery, amphora, beads and other artefacts that are reminiscent of the ancient Romans.
Historians believe the lost port of Muziris was key to trade between India and the Roman Empire. For many years, people have been in search of the almost mythical port, known as Vanchi to the locals.
Read report