Poet-photographer Waswo X Waswo breathes the life of his "subjects" and lives to document them as they are. Fluid lines of poetry are committed to the photographs at a whim, and presented before us as 'India Poems: The Photographs'
"My father served in India during World War II. He was stationed in Bombay, and later in Karachi. He has an album from his days in India which I would love to look at now and then. I would never tire of the tales he had to tell about his time here. That is how my fascination for the country was born. "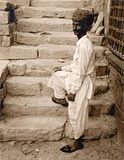 "What amazes me is that they are poor by western standards, Indian standards too, but still so hospitable and friendly, with always something to offer you, be it a humble cup of chai."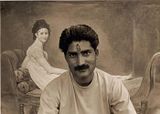 "I didn't capture the fast cars and city life that is indicative of a global culture. I went for what was rural, consequently more poor. Unfortunately, it was seen by a few Indian viewers as a misrepresentation of the country. My stance is that I was only trying to find beauty in the old and traditional. "
"With time I started to travel: Australia, New Zealand, Thailand, Europe. It was through the camera that I encountered these places. There were shreds of truth to be sought, but inevitably I twisted those shreds to the demands of my fantasies. Italy and India became favorite haunts. One country seemed exquisitely civilized, the other, seductively, beautifully, primal. Both were full of wonder, chaos, and enlightenment."
Read interview of Waswo X Waswo